Demolition Contractors London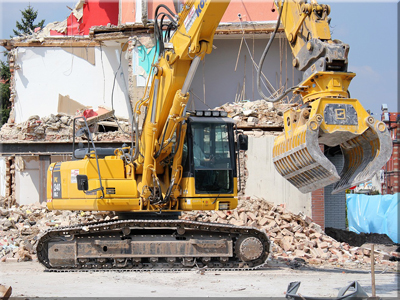 London building demolition is a vital aspect of urban development. In view of ageing of existing structures and the need to rehabilitate them or to make room for new ones, the opportunities for deconstruction and demolition services in London expand.
Nowadays, demolition services denote a variety of tasks encapsulating a whole range of complex services, beginning with preparing a site for a new construction to be built, through salvaging of materials from demolished constructions, to the removal of materials, including hazardous ones, which may be cumbersome for contractors who do not specialise in such kind of activities.
Whether it is needed to remove a building standing aside with lots of free space around, or a home or apartment in the close proximity to other structures, with the use of our professional demolition companies London, Birmingham, Glasgow, Manchester, Leeds, Liverpool, Bristol and across the UK you may rest assured that impact on your neighbours will be minimised due to us combining our expertise and specialised tools and meeting highest standards applicable in the industry. Simply phone us today to find out how much it is to demolish private house, commercial sites, warehouses, buildings, construction partitions and more.
We primarily focus on safety of not only the demolition team, but also the surrounding structures and people, which seems to be the most critical issue once one thinks of demolition services. We are not only a trustworthy London demolition company that provides high quality services safely, but we are among that type of demolition contractors in London which are not afraid of any kind of task relating to the demolition and deconstruction process. We are fully responsible for a demolition project from the very beginning to the very end taking care of demolition of the structure, removing building materials and scattered debris, and leaving the site in an appropriate order. Apart from demolition services we also offer office removals London.